Go to Sale Items
Pocher Rolls Royce Models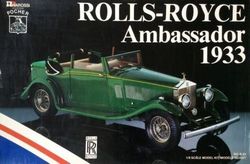 One of the most popular models made by Pocher are their Rolls Royce models. They made two Rolls Royce models in their Classic model range, namely the Torpedo Phantom II Convertible in silver/gold and the Phantom II Ambassador in green. They also produced a model Sedanca Coup?. Some of these models can reach over a $1000 at auction. Here is a nice video of a completed Torpedo.
Pocher's Rolls Royce models were designed with the detail-conscious model kit builder in mind. Their kits contain exact scale parts, with their technicians using the original design drawings to replicate items with the best accuracy possible. The majority of the parts are made from the same materials as the original Rolls Royce, using leather, brass, bronze, etc. To give an indication of the accuracy and the complexity of these Pocher models, the Phantom II kit contains 2199 parts with a functional items such as a steering wheel, brakes, headlights operated from the dash, open and closing roof, boot and hood. These are incredible models and a great asset to any modeller's collection.
Pocher Rolls Royce are still a very popular model and here is a selection of models and spare parts that are currently available at auction on eBay.
My Search Settings
eBay Market -
Sort Order -
Number of Listings -