Go to Sale Items
Haynes Plastic Model Engine Kits
Choose from our large range of Haynes plastic engine kits. Whilst Haynes are well known for their motor vehicle manuals, they also produce a selection of plastic combustion engine model kits, such as the V-Twin motorcycle engine pictured.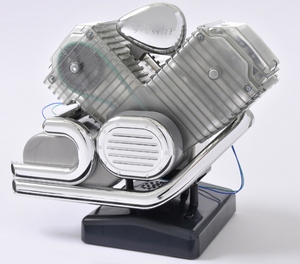 Whilst their range is not large, these models do look fantastic. The casing is clear plastic so the internal workings of the engine can be seen. And just to add to the realism, the Haynes model engines come battery powered so you can fire them up! Plus there is a sound chip in the Haynes model controller to replicate the engine noise.
Each model engine kit comes with a Haynes manual, naturally, to enable easy assembly plus a display stand for the modeller to show off their completed masterpiece.
Haynes Model Engine Kits For Sale
Browse our selection of Haynes plastic model engines below. These kits are currently available for immediate purchase or up for auction.
If the Haynes model kit is not available right now, bookmark this page and check out the auction listings on My Model Hobby again tomorrow.
Haynes model engine Search
My Search Settings
eBay Market -
Sort Order -
Number of Listings -