Go to Sale Items
Italeri Models
Find the Italeri plastic scale model you are looking for from our wide range. Each model is available with a Buy Now price or via auction.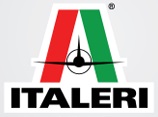 Italeri produce a great range of plastic model kits covering airplanes, military vehicles and many more. The founders, Giuliano Malservisi and Gian Pietro Parmeggiani, were dis-satisfied with the models available to them back in 1962, so began producing model kits for themselves and then selling them to others.
The Italeri model range spans military vehicles such as WWII Italian aircraft, 1:24 scale trucks, various helicopters and ships. The company produce accrurate model kits with a great deal of attention paid to model detail.
Italeri Plastic Scale Models For Sale
Browse our selection of Italeri models below. These kits are currently available for immediate purchase or via auction.
If the Italeri model is not available right now, bookmark this page and check out the auction listings on My Model Hobby again tomorrow.
Italeri Search
My Search Settings
eBay Market -
Sort Order -
Number of Listings -