Go to Sale Items
Azur Frrom Models
Choose from our large range of Azur Frrom scale plastic model kits. Azur Frrom produce a large range of unusual aircraft models, specialising in aircraft not modelled by mainstream manufacturers.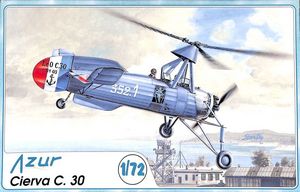 Mainly producing models in 1/72 scale, Azur Frrom choose aircraft models that other manufacturers may have overlooked. This provides a great opportunity for the modelling enthusaist to model an unusual aircraft, such as the Cierva C.30 Autogiro (pictured).
Azur Frrom are based in France, but their models are selected from aircraft used around the world. As of the beginning of 2016 Azur Frrom had an interesting project underway to produce a model kit of a Breguet Bizerte, a military reconnaissance flying boat used by the French navy. Hopefully they are successful with this project and more to come in the future.
Azur Frrom Model Kits For Sale
Below is a selection of Azur Frrom model kits currently available for auction on eBay. Listed first are the Azur Frrom model auctions that are about to end. Use the search selection fields to narrow your Azur Frrom model kit search and find the item you are looking for.
If the Azur Frrom Model Kit you are looking for is not available right now, bookmark this page and check out the auction listings on My Model Hobby again tomorrow.
Azur models Search
My Search Settings
eBay Market -
Sort Order -
Number of Listings -