Go to Sale Items
MPC Corvette Model Kits
Browse our range of MPC Corvette model kits and find the Corvette kit for you. Check our wide range with kits available with a Buy Now price or via auction.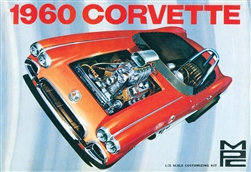 The 1964 Corvette Sting Ray coupe was the first model available under the MPC name, and further Corvette models were produced by MPC over the years. Most of these models featured working parts, such as front suspension, brakes as well as simulated vinyl upholstery.
The MPC Corvette model kits are sought after by model enthusiasts especially due to the working parts on the models adding a nice touch of realism to the kit. Some of the Corvette kits came with model options such as multiple hoods, various engines and racing parts.
MPC Corvette Model Kits For Sale
Browse our selection of MPC Corvette model kits below. These kits are currently available for immediate purchase or via auction.
If the particular MPC Corvette kit is not available right now, please bookmark this page and check out the auction listings on My Model Hobby again tomorrow.
My Search Settings
eBay Market -
Sort Order -
Number of Listings -